Mr. Fu Penghui Employed as Yunshan Senior Professor of GDUFS
At the beginning of this semester, Mr. Fu Penghui, former Deputy Director of Meetings and Publishing Division and Chief of Verbatim Reporting Service, United Nations, was employed as Yunshan Senior Professor of GDUFS. He was also invited by the World Interpreter and Translator Training Association (WITTA) to serve as a senior advisor. In addition, he will teach one course on UN document translation and another on legal translation.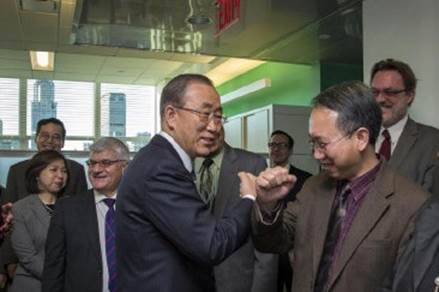 Professor Fu Penghui (Right) and Ban Ki-moon, former UN Secretary-General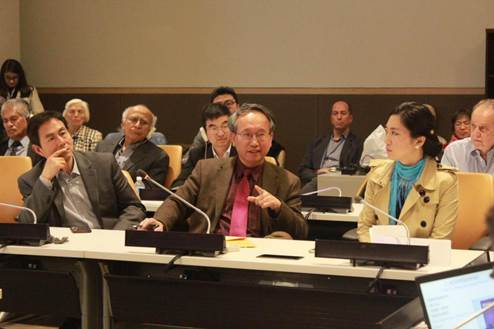 Professor Fu Penghui in the UN
In 2011, GDUFS signed Memorandum of Understanding (MoU) with the UN and became the 19thuniversity in the world to train candidates for language competitive examinations. Representatives from GDUFS visited the head quarters of the UN for many times, gaining direct understanding about the working environments of interpretation and translation there. Besides holding broad talks with heads of Interpretation Service, Translation Services, Editorial, Terminology and Reference Service as well as Verbatim Reporting Service, they also carried out in-depth exchanges on the development of Professional Certificate of Conference Interpreting Program in GDUFS, selection and management of UN interns, inviting UN experts to give courses in GDUFS and providing language training courses to the UN staff. With Professor Fu's coordination and assistance, GDUFS established close relationship with the UN and many GDUFS students interned in the UN. Chen Qiong from the class of 2011 in SITS has been working as a permanent professional for the UN since December, 2016.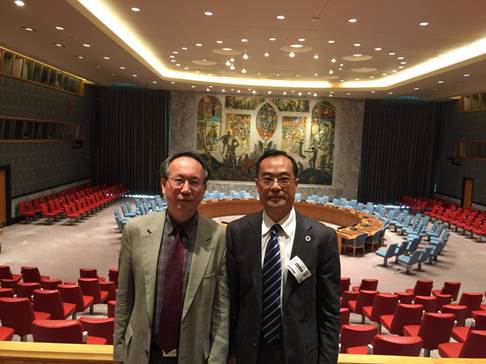 Professor Fu Penghui and Dean Zhao Junfeng
Professor Fu Penghui's joining in SITS greatly contributes to the quality of the faculty team in our school, and significantly strengthens the long-term development of SITS as well.
Bio of Fu
Fu Penghui, Strategic Consultant of World Interpreter and Translator Training Association and Yunshan Senior Professor in GDUFS; former Chief of Verbatim Reporting Service at the Department for General Assembly and Conference Management of the United Nations;
In 1989, gained Master's Degree in Political Science in City University of New York (CUNY);
In 1984, completed his graduate program, namely UN Interpreter and Translator Training Course in Beijing Foreign Studies University (BFSU);
In 1984, employed by the United Nations;
In 1980, graduated from the English Department of Beijing Foreign Languages Institute(today's BFSU);
In 1980, worked as a translator for an American newspaper—The Baltimore Sun.